VOA Kurdish Goes on Direct-to-Home Satellite
Washington, D.C. —   Voice of America's Kurdish language radio broadcasts will be simulcast on direct-to-home satellite starting Monday, giving listeners in the Kurdish-speaking regions of Iraq, Turkey, Syria and Iran, a new way to hear the popular programs.
VOA's Kurdish service is the only international broadcaster that speaks to the Kurds of Iraq in their main dialects, Sorani and Kurmanji.  The service, which is celebrating its 20th anniversary this week, also attracts a significant audience in Syria, Turkey and Iran, all with sizable Kurdish minorities.
VOA Director David Ensor, who recently introduced TV/radio simulcasts in Pakistan and Burma, says putting the Kurdish program on satellite makes sense.  "VOA has a solid news team that is already broadcasting on radio to areas where direct-to-home satellite use is growing. By simply putting cameras in the studio, we can offer the satellite audience an additional way to hear and see our programs," Ensor says.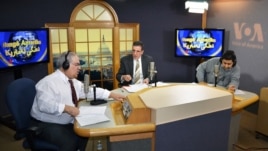 At right, VOA Kurdish broadcasters Haider Karim, Simko Aziz, and Robin Reshvan.
​​The Kurdish satellite broadcasts go on the air daily at 5:00 PM Iraq time and are simulcast on radio and Hotbird, one of the most widely-used direct-to-home satellites in the region.  VOA Kurdish radio programs are also delivered on shortwave, FM transmitters in northern and southern Iraq, and broadcast over medium wave from Kuwait.
VOA's Kurdish program lineup includes news and current affairs shows, a weekly call-in show as well as the bi-weekly Internet television program called, Kurdish Connection.  The Service's multimedia websites, with successful blogs in both major Kurdish dialects, provide comprehensive coverage of regional, international and U.S. news and links to social media sites that offer the audience a platform for informed discussion.
For more information about this release contact Kyle B. King at the VOA Public Relations office at kking@voanews.com.   For more about any of our language services visit the VOA English language website atwww.voanews.com.
The Voice of America is a multimedia international broadcasting service funded by the U.S. Government through the Broadcasting Board of Governors. VOA broadcasts approximately 1,500 hours of news, information, educational, and cultural programming every week to an estimated worldwide audience of about 141 million people. Programs are produced in 43 languages and are intended exclusively for audiences outside of the United States.
For more information, call VOA Public Relations at             (202) 203-4959      . Follow us on Twitter @VOABuzz and Facebook at InsideVOA.