New VOA Show Lampoons Iranian Politics
Voice of America's newest Persian TV program hits the airwaves in Iran Friday with an off-beat look at the Iranian political scene.
The new show, OnTen, which means Antenna in English, is more than just a wrap-up of the week's headlines.  The half-hour mix of parody, satire, comedy and news, gives viewers a tongue-in-cheek look at Iranian government policies and the people behind them.
Antenna co-host Saman Arbabi, who also played a key role in the creation of the hit VOA show Parazit, says the new program and its playful features will be unlike other Persian Service programs.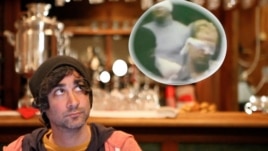 ​​"People always used to make fun of Cold War era documentaries from the 1950s," Arbabi says, "so one of the fun ideas we had was to use that format for a weekly segment that profiles people who play a powerful behind-the-scenes role in Iran."
These are serious people and serious topics Arbabi says, but there is no reason we can't examine them in a humorous way.  In addition to a weekly news roundup with commentary, Arbabi says the show will have a video blog and a rapid-fire four-way debate format that will include VOA's Arash Sobhani and two guests from opposite ends of the political spectrum.
VOA Persian Service programs are broadcast to Iran on satellite and the Internet.  Antenna will air Fridays at 10 PM Tehran Time, and will be available on Facebook, YouTube and Twitter.
For more information about this program contact Kyle King at the VOA Public Relations office in Washington at (202) 203-4959, or write to kking@voanews.com.  Visit our main English language website at www.voanews.com for links to all of our language service programs.  VOA's Public Relations page can be found at www.insidevoa.com.