OMG! Host Jessica Beinecke Meets Panda
Jessica Beinecke, the host of VOA's popular English learning blog OMG! Meiyu, spent a little quality time with a very special fan this month, Jun Jun the giant panda.
Jessica just returned from nearly two weeks in China, where she shot several new episodes for her show, met with fan club members and visited the Chengdu Research Base for Giant Panda Breeding.
"Meeting Jun Jun the giant panda, which involved lots of honey to keep him occupied, was one of the highlights of the trip, but it's just great to be in China and meet with the fans who contribute so much to the success of OMG! Meiyu," Jessica says.
Jessica, who was also interviewed by a local TV station and included in a CCTV documentary, was hosted by Yuliang Zhou, the founder and editor of the Chengdu-based English learning web portal, 24en.com.  The site uses VOA English learning programs.
"Mr. Zhou was an excellent host, even though he tricked us into eating some of the spiciest food I've ever tasted – EVER!!," Jessica says.  "It was a wonderful week in Chengdu."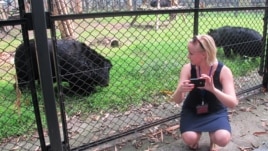 ​​​​
During the trip Jessica also visited the Moon Bear rescue center near Chengdu.
Jessica's OMG! Meiyu videos, which are produced for VOA's Mandarin Service, teach trendy expressions used by young people in the United States.  The feature has been viewed more than 14 million times.  The videos are posted on VOA's Chinese website, as well as popular Chinese and English language social media sites.